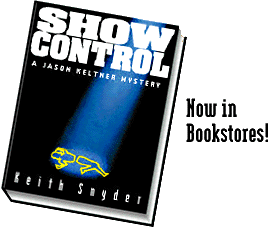 by Keith Snyder
Rating: ***
"If Gibson is the Gibson of cyberlit, then Snyder is the Fender." --Buck Dharma, The Blue Oyster Cult
When Pasadena musician Jason Keltner's friend is cut down by her own stage laser, Jason unites with two fellow starving artists to track down the killer. These self-styled Three Musketeers vow to "harass the enemy ceaselessly", only to find that it may not have been such a great idea... A fast and funny book, with its focus on music, sound and gadgets, Show Control will be a hit with musicians, artists and computer users.
"An entertaining and notable first novel that really sparkles... crisp, cryptic, and humorously cynical..." --Small Press Magazine
"...a highly impressive first novel of rare quality... at once hilarious, realistic, and immensely gratifying." --Pirate Writings
More About This Book From Amazon.com
---

This page has been visited
times.